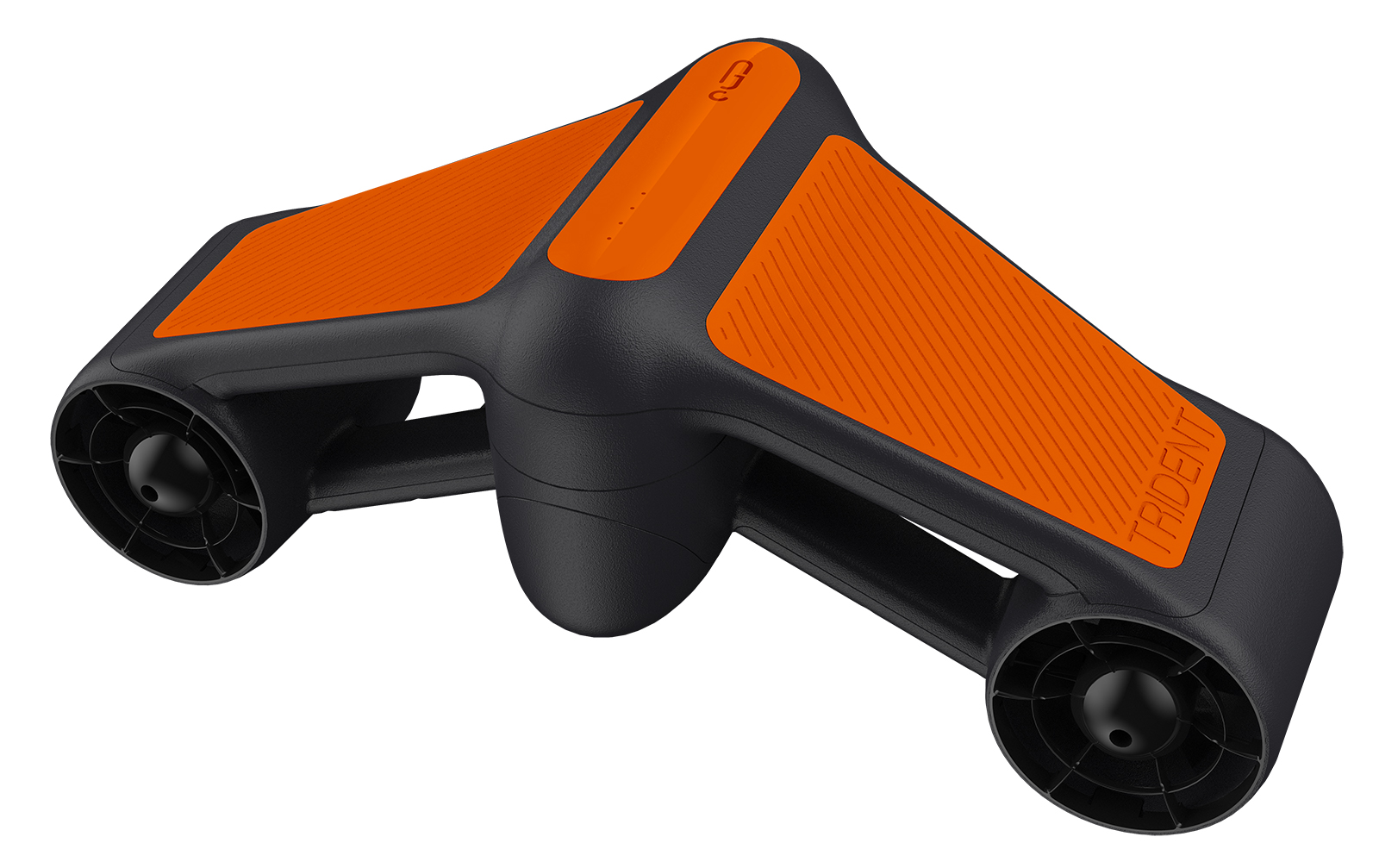 G Geneinno S1 Underwater Scooter
The best water companion ever
S1 Underwater Scooter
Equipped dual engine that yields the thrust up to 26lbs, the professional Geneinno S1offers 45 minutes diving time at max depth of 164ft.
Its innovative design features the perfect combination of propulsion and stability, so you can speed up to 5.9 ft/s and go deep up to 164 fts.
Safe & User friendly
Born with positive buoyancy, you will never lose it in the ocean. We design the safety lock for children to prevents accident.
Replaceable Battery for Longer Travel
With a removable battery, you can replace another one within 10 seconds.
You'll never worry about the wonderful stories interrupted by low charge.
Build-in low power chip, you can travel in the sea max up to 60mins without any hindrance.
Usage Scenarios
| | | | |
| --- | --- | --- | --- |
| Swimming | Snorkeling | Scuba diving | Free diving |
Explore The Majestic Marine Life
G Geneinno S1 underwater scooter comes with a detachable floater, which helps maintain positive buoyancy for extra safety. Perfect for exploring the beauty of marine life while you're snorkeling or diving.
Cool diving wizard
Powered by 6300mAh Li-polymer battery, the S1 brings the max speed of 4mph, yet you can turn tolow speed at 2.2mph for underwater filming work.
Specs
Battery
Battery Capacity: 6300mAh / 139.86Wh
Voltage: 22.2V
Charging time: 1.5h~2h
Package
Foam+Carton
Water permeable material with waterproof battery bag
The rope can connect to the user's wrist
Scooter
Weight: 8.1 lbs
Dimensions: 19.68×8.23×8.90 inches
Max Depth: 164ft (50m)
Low speed: 2.2mph
High speed: 4mph
Buoyancy: 3.52 oz /100 g
Max dive-time: 45 mins
External device support: Action camera, light etc.
Lock: Child safety lock
Motor
Total Thrust: 26 lbs(12kg)
Total Power:
Low speed: 180W;
High speed: 480W
Compatible with Go-Pro Camera
Compatible extension
Make sure your awesome underwater adventures don't go undocumented.
G Geneinno S1 is equipped with a universal action-camera mount compatible with most action cameras on the market. You can secure your waterproof camera at the front of the S1 scooter to record captivating underwater photos and videos for your family and friends to enjoy.
Packing List
Packing List
1* S1 Undewater Scooter
1* Manual
1*Adaptor
1* Packing bag
1*Anti-lost rope
【Safe and Friendly】Designed with positive buoyancy, you don't have to worry about losing it in the ocean. When it runs out of power, you can conveniently let it float on the surface to change the battery. In addition, we designed the child safety lock to prevent accidents.
【Portable and Durable】Equivalent to a 16 MacBook Pro, G Geneinno S1 underwater scooter is perfect to fit into a carry-on bag with you anywhere. Its innovative design features the perfect combination of propulsion and stability, so you can speed up to 1.8m/s and go deep up to 164fts.
【Your Best Water Sports Companion】Whether it's the pool or the beach, this underwater scooter is your perfect water companion. Even young ones will surely love to swim like a champion with G Geneinno S1 with its user-friendly controls.
【Compatible Extension】S1 supports the various extensions, capture stunning underwater pictures with action camera and flashlight to light up the dark.
【Replaceable battery】When you run out of power, just float up to replace the battery in 10 seconds because the professional waterproof port ensure the safety.
Scooter
Weight: 8.1 lbs
Dimensions: 19.68×8.23×8.90 inches
Max Depth: 164ft (50m)
Low speed: 2.2mph
High speed: 4mph
Buoyancy: 3.52 oz /100 g
Max dive-time: 45 mins
External device support: Action camera, light etc.
Lock: Child safety lock
Motor
Total Thrust: 26 lbs(12kg)
Total Power
Low speed: 180W;
High speed: 480W
Battery
Battery Capacity: 6300mAh / 139.86Wh
Voltage: 22.2V
Charging time: 1.5h~2h
Packing List
1* S1 Undewater Scooter
1* Manual
1*Adaptor
1* Packing bag
1*Anti-lost rope
E-mail format is incorrect
The phone number format is wrong